CF Auto Root
1
Treading carefully
Rooting a phone has come out of a need to circumvent (((big brother's))) decision to keep users away from the more sensitive parts of the Android OS. It's true that unadvised people may inadvertently crash the software. I once knew somebody who put all the .dll files into a single folder to make things more organized. Needles to say that his system didn't recover. So a layer of security should be set in place.
Regarding Android, even if most people will likely never need access to advanced functions, a standard administrator type account could have been sufficient. You know, give some warnings here and there, establish an admin password so your kids don't brick the family tablet and the like... But no. Since every user is considered to be a clueless consumer, you now need to perform brain surgery on your phone, just to be on par with what users of Windows, MacOS, and especially Linux take for granted. Even iOS is more accessible in some regards.
Rooting your phone is a delicate business. Methods and success rates vary depending on OS version and phone model. There's no definitive guide to root an Android phone. With that being said, CF Auto Root is a Windows application designed to automatically root Samsung devices. The process is seemingly simple: While the phone is connected, you start the application and click on PDA. Load the supplied [...].tar.md5 file and then select Start and hope for the best.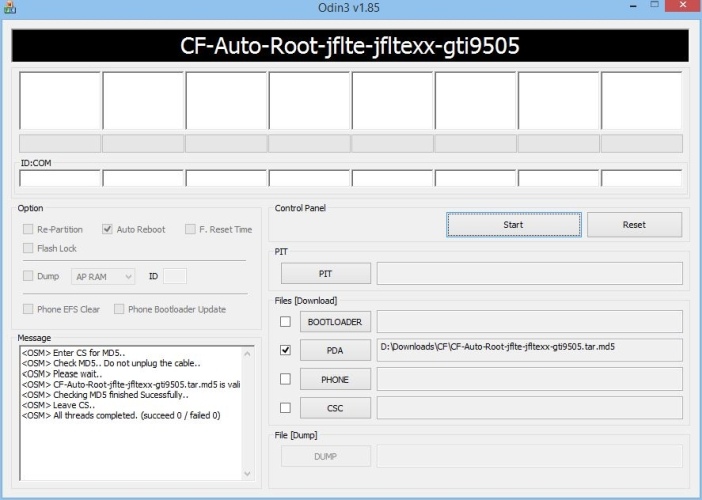 Be careful though, as an automated process is much more likely to fail than a manual one. Since a human can apply discernment, I urge you to check this web page before committing. There you will see a disclaimer as well as a list of .md5 that work for specific models. If you are wondering what ODIN is, then check CF Auto Root's window. You are running it.
Features
Conclusion
CF Auto Root is made especially for beginners in the rooting scene. even so, be advised that the process is not foolproof. There's nothing more to add.
RELATED PROGRAMS
Our Recommendations
---
---
---
---